Things to do
There is so much to explore in the Vercors – summer and winter !
————————–
Summer: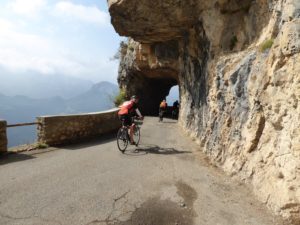 Cycling – Road
Whether you are a hardcore road cyclist or prefer to take to the roads with the children
and/or electric assistance, the Vercors is simply cycling paradise!  The Vercors has an
abundance of wonderfully quiet country roads, tough long climbs, deep natural gorges and
stunning cliff-edge roads to enjoy, whatever your level.
Visit our favourite cycle tour company Moucherolle Cycle Tours for inspiration.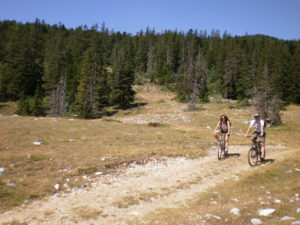 Mountain biking
With a vast network of off-road paths through the mountains and the valleys, mountain biking has been hugely popular in the Vercors for decades.  From family oriented gentle paths of the Via Vercors network, to the technical mountain paths in the Vercors mountain range, there is something for everyone to enjoy.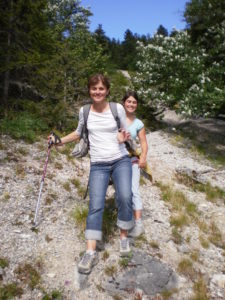 Walking and hiking
The famous hiking network of the 'Les Grandes Traversees du Vercors (GTV)' is
literally at your doorstep from Gite du Col Vert, and allows you to navigate your
way through the stunning natural beauty of the Vercors regional park – with or without donkey!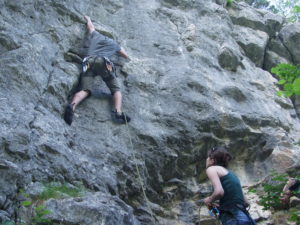 Climbing and Canyoning
There are many official rock climbing sites to choose from across the Vercors region, and spectacular sites for canyoning in Gorge du Furon, between Villard de Lans and Engins. More information about these activities is available from the tourist office site of Villard de Lans.

Paragliding and hot air ballooning

Paragliding for beginners or the experienced is popular in the
mountains near Lans en Vercors.  Hot air balloons are often seen in the skies of the Vercors and are a fantastic way to explore the wonderful countryside from above. More information about these activities is available from the tourist office site of Villard de Lans.
Annual key event: Festiv'air in October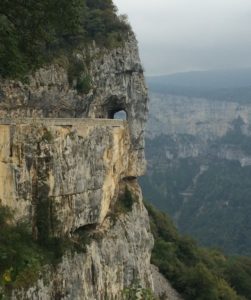 Touring
With its famous 'balcony roads' such as Combe Laval, Route de Presles and Gorges de la Bourne, it is no surprise that the Vercors attracts motorists and bikers from across Europe to experience these frightening but beautiful roads carved out of the cliff edges.
——————–
Winter:

Alpine Ski
The Vercors ski resorts are famous with the French but virtually unknown to those outside of France,
who tend flock to the mega resorts in the Alps.  With resorts in Villard de Lans, Correncon, Meaudre, Autrans
and Lans en Vercors, there's plenty to choose from near Gite du Col Vert.
The resorts in the Vercors are family friendly and not overly commercial, resulting in short queues
and plenty of time and space to enjoy skiing at any level.  The best time of year is mid January to mid March, when snow is plentiful.

X-country ski
The Vercors is the home of many olympic x-country ski champions, and it's no surprise why.
With endless beautifully prepared tracks all over the region you'll be spoiled for choice
and never have to ski in the same place twice during your holiday.

Fatbiking
Relatively new to the region and developing very rapidly is fatbiking – mountainbiking in the snow with fat, oversized tyres to ensure good traction.  An entire network of signposted tracks has been developed, dedicated to this new sport.

Snowkite
A large section of the valley between Autrans and Meaudre has been
assigned to this sport which is the equivalent to kite surfing, but on snow ofcourse.

Hiking
Just like in the summer, walking and hiking is a favourite pass time in the Vercors winter too.  Special tracks for hiking are well signposted to avoid running into skiers or fatbikers during your wonderfully peaceful trek. Several basic huts are positioned high in the mountains where you can stay overnight free of charge without the need to book.  Just don your snowshoes and start walking!